All to Know About Fireworks in the Flint Hills
Posted by Broker Roberts on Monday, June 26, 2023 at 8:54:06 PM
By Broker Roberts / June 26, 2023
Comment
With so many festivals and fireworks near Manhattan, KS you can really mix and match to make the perfect weekend for you! Whether you enjoy live music, car shows, food, parades, carnivals or just looking for the best fireworks, there is something for everyone!
I know many people are surprised to find out that Manhattan, KS does not have a fireworks show in town on the 4th of July, but there are many fantastic options nearby for those looking to sit back, relax and enjoy fireworks filling the sky! For a little background, Manhattan, KS used to have festivities and fireworks in Cico Park, but unfortunately, the fireworks so lost their sponsor.
By the time all this took place surrounding, communities were providing wonderful options for families and friends to get together and enjoy multi-day festivities celebrating the 4th of July. The best part of having all these festivities nearby is that you can really mix and match them to make the perfect weekend for you! Whether you enjoy live music, car shows, food, parades, carnivals or just looking for the best fireworks, there is something for everyone!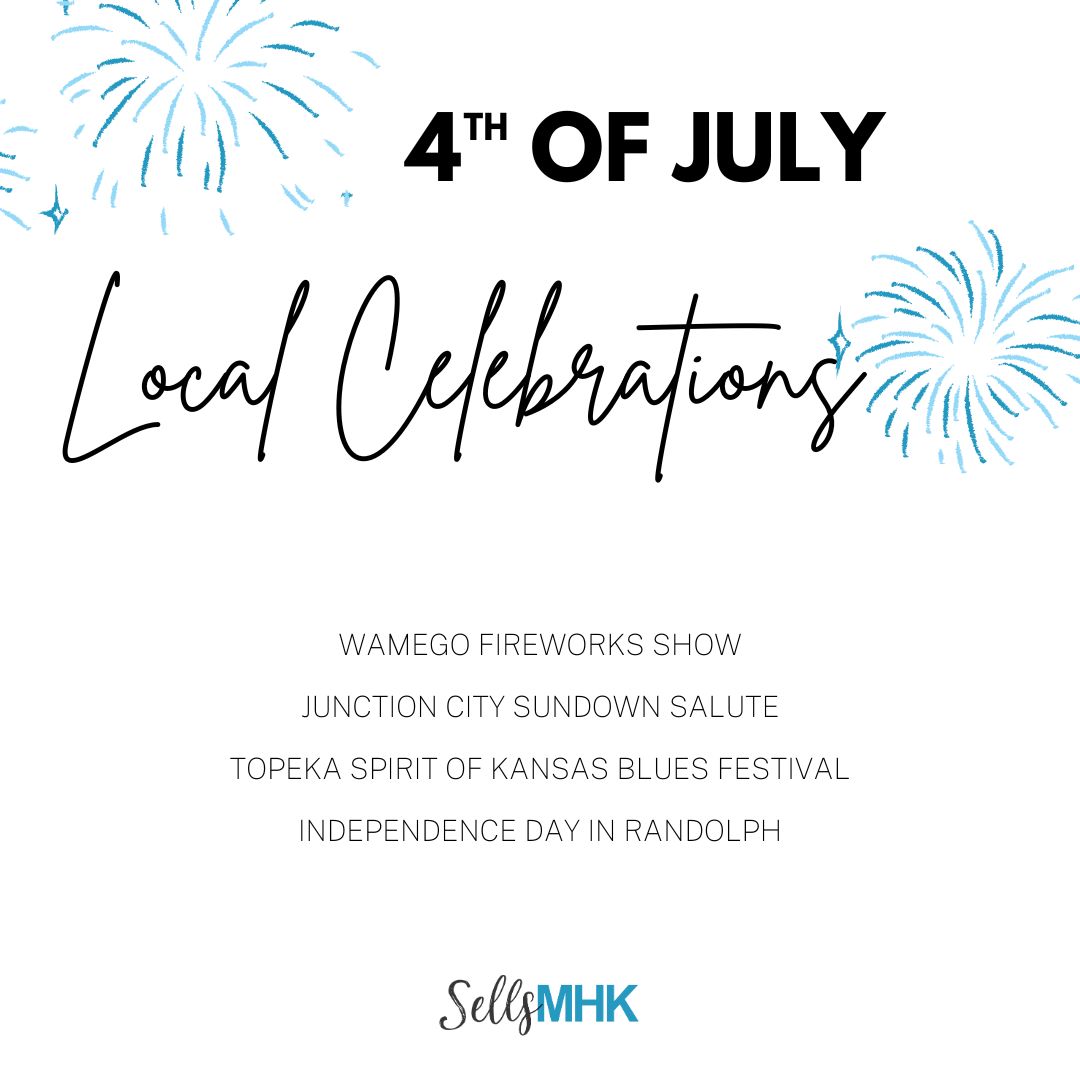 Wamego, KS Fireworks Show: The largest fireworks show in Kansas! Affectionately known as "Boomtown" this place truly lights up the sky on the 4th of July! All made possible through volunteers and donations, they put on an amazing 30-minute show! In addition to the fireworks, you can enjoy the carnival, parade, car show, and several community activities throughout the weekend. If you decide to enjoy Boomtown, make sure you go early and don't be in a rush to leave. Thousands upon thousands of people come to Wamego, KS for their fireworks and it can take over an hour to get back to Manhattan, KS. It is much better to bring some extra snacks and just hang out for a while after the show is over!
Junction City, KS Sundown Salute: The largest multi-day festival in the state of Kansas! This year marks the 50th Anniversary of the Sundown Salute! Originally started in Milford, KS, this year the Sundown Salute is expanding again so that events will take place in both Milford and Junction City, KS! This festival offers various genres of live music every evening through July 4th. Attendees can also enjoy a parade, a Freedom run, a carnival, a car show, and a special ceremony honoring our veterans. The final day, July 4th is jammed packed and ends with the fireworks show at 10 pm!
Spirit of Kansas Blues Festival at Lake Shawnee in Topeka, KS: The Spirit of Kansas Blues Festival has been rocking the 4th of July for over 10 years. The musical lineup kicks off at 11 am on July 4th and continues through the day until it's time to light up the sky. With the annual fireworks show sponsored by Capitol Federal. Attendees can also enjoy various vendors who will be out at the lake. For those looking for a little fewer crowds and a quicker trip home, I hear that this is the show for you!
Independence Day in Randolph, KS on July 1st & 2nd: This year marks the 45th Anniversary of the Independence Day Celebration. Head North of Manhattan via HWY 24 and you will find yourself in Randolph, KS. The fun begins on the 1st with a fish fry and hotdog eating contest in the park. Then on Saturday, there is a softball tournament, corn hole tournament, breakfast, a variety of parades, turtle races, tractor pulls, and more. You can even enjoy hot air balloon rides, live music, and then the big show begins at dark! Bring your lawn chairs, cooler, and get ready to enjoy fireworks light up the sky!
While I hope you are able to make it to one of these shows, I will tell you that any night in the coming days you will be treated to many fireworks shows. As I have said several times, this place LOVES to celebrate and if you find a spot up on a hill you will be treated to several fantastic fireworks shows! We enjoy opening our windows and watching our neighbors light up the sky while we relax in our comfy chairs and more importantly, air conditioning! I would also be remiss if I did not mention, that while this weekend is a celebration, please keep in mind we have many veterans in our area, and be courteous!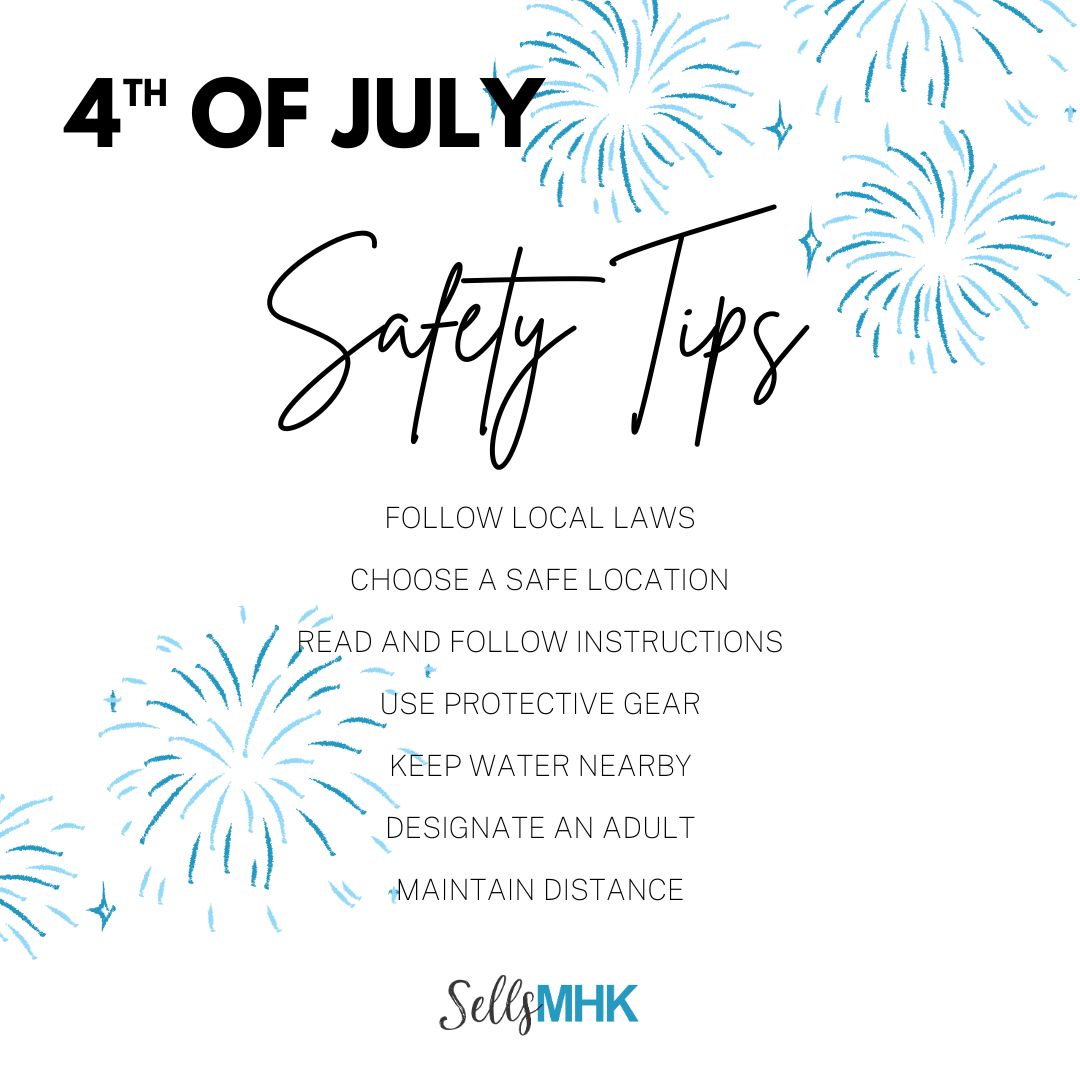 Stay Safe During Firework Celebrations
Follow Local Laws: Familiarize yourself with your local laws and regulations regarding fireworks. Only use fireworks that are legal in your area and purchase them from reputable sources.
Choose a Safe Location: Find an open, clear area away from buildings, vehicles, trees, and flammable materials to set off fireworks. Make sure there are no overhead obstructions such as power lines.
Read and Follow Instructions: Carefully read the instructions on each firework before lighting it. Follow the recommended safety guidelines and use a long lighter or extended lighting device to maintain a safe distance.
Use Protective Gear: Wear safety goggles and protective clothing, such as long sleeves and pants, to reduce the risk of injury from sparks or debris. Avoid wearing loose or flammable clothing.
Keep Water and Fire Safety Equipment Nearby: Have a bucket of water, a hose, or a fire extinguisher readily available to quickly extinguish any fires. Soak used fireworks in water before disposing of them.
Designate a Responsible Adult: Ensure that a responsible adult, who is not under the influence of alcohol or drugs, is in charge of lighting fireworks. Keep children and pets at a safe distance from the fireworks area.
Maintain Distance: Keep a safe distance from ignited fireworks. Back away immediately after lighting them and never attempt to relight a firework that didn't fully ignite.
Spectator Safety: If you are attending a public fireworks display, follow all instructions from event organizers and stay within designated spectator areas. Respect safety barriers and maintain a safe distance from the launching site.
Be Mindful of Others: Be considerate of your neighbors and the environment. Avoid lighting fireworks late at night when people may be sleeping, and clean up any debris after your celebration.
Discharge is allowed 8am to midnight July 1 through July 4.
Sales are allowed starting July 1 at noon through midnight July 4.
**Bottle rockets & M80s are illegal in Kansas & extremely dangerous. The use of these banned fireworks is considered a crime under Kansas law. It is also illegal in Kansas to shoot fireworks on or under any vehicle, on any public roadway, within 50ft of a fireworks stand or where fireworks are stored & at gas stations or any place liquid gas - including propane - is stored.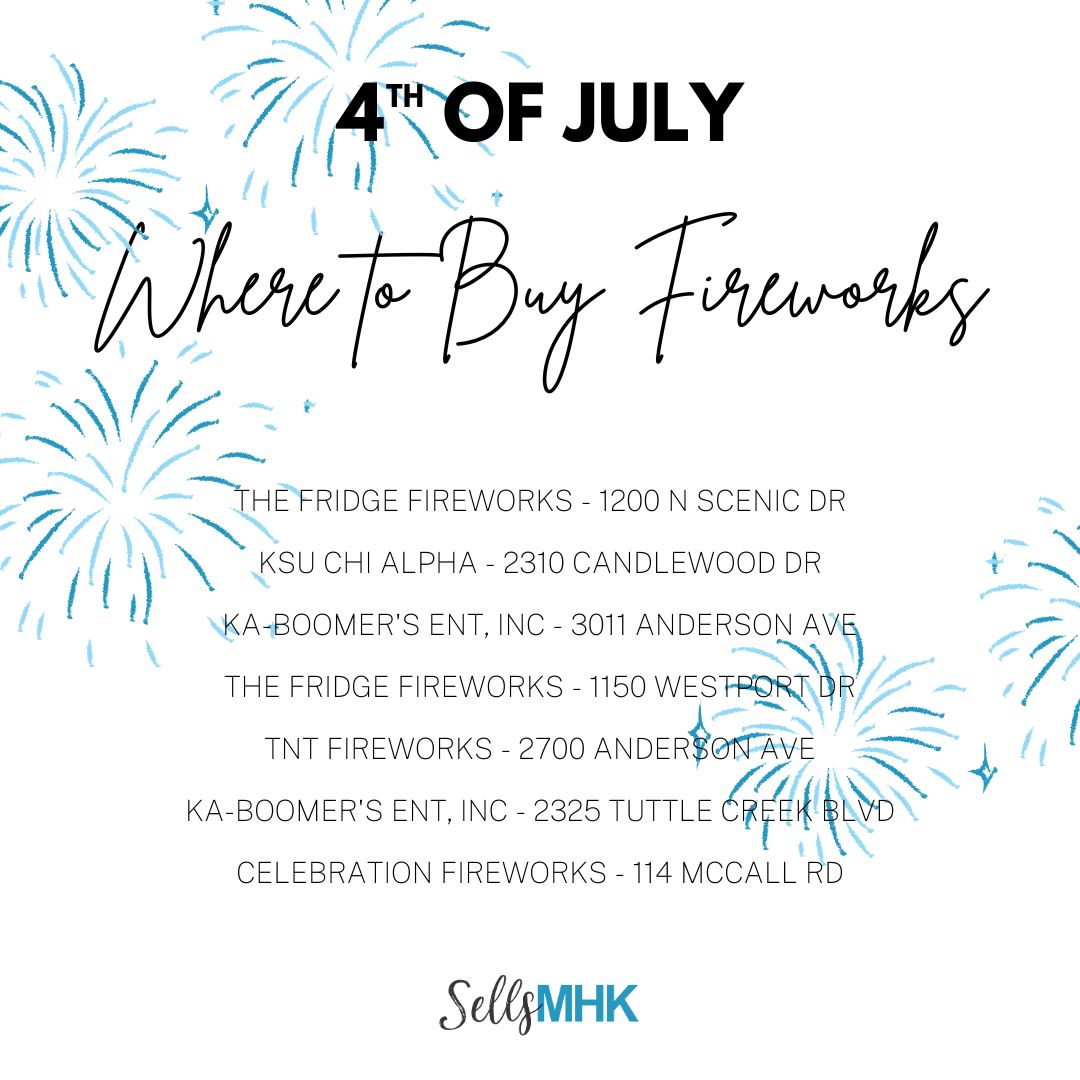 Where to Buy Fireworks?
The Fridge Fireworks - 1200 N Scenic Dr
KSU Chi Alpha - 2310 Candlewood Dr
Ka-Boomer's Ent, Inc - 3011 Anderson Ave
The Fridge Fireworks - 1150 Westport Dr
TNT Fireworks - 2700 Anderson Ave
Garrett's Worldwide Enterprises LLC - 2304 Stagg Hill Rd
Ka-Boomer's Ent, Inc - 2325 Tuttle Creek Blvd
Celebration Fireworks - 2215 Tuttle Creek Blvd
Garrett's Worldwide Enterprises LLC - 900 N 3rd St
Celebration Fireworks - 114 McCall Rd
Wholesale Fireworks Enterprises LLC - 101 Bluemont Ave
Bellino Fireworks Kansas Inc - 130 Sarber Ln
Wholesale Fireworks Enterprises LLC - 200 Sarber Ln
Wholesale Fireworks Enterprises LLC - 605 S 3rd St