Capitalizing on the Seller's Market Advantage in Manhattan, KS
Posted by Broker Roberts on Monday, September 4, 2023 at 9:07 AM
By Broker Roberts / September 4, 2023
Comment
Even in the charming city of Manhattan, Kansas, the real estate market follows the national trend of favoring sells due to a limited supply of available homes. This presents a golden oppportunity for you as a potential seller in this locale. Let's delve into the specifics of how the current seller's market conditions can work in your favor if you're considering selling your property in Manhattan.
The recent report on Existing Home Sales by the National Association of Realtors (NAR) emphasizes the ongoing scarcity of housing options. The measure of housing inventory reveals the number of homes listed for sale, and this is further gauged in terms of months' supply - a metric indicating the number of months it would take to sell all available homes based on the existing demand. In a balanced real estate market, equilibrium is generally maintained with approximately six months' worth of housing supply. However, the current situation in Manhattan showcases a mere three months' supply of homes, considering the current pace of sales (as illustrated in the accompanying graph):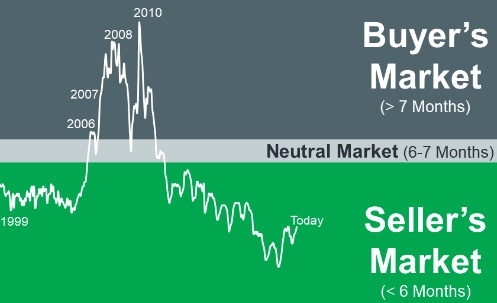 As visualized, Manhattan's housing inventory aligns with the characteristics of a seller's market.
The present conditions differ signifcantly from a balanced market. The existing month's supply of homes stands at only half of what would be expected in a regular market. This scarcity underscores the fact that the demand from buyers exceeds the available inventory.
Lawrence Yun, Chief Economist for the NAR, succinctly captures the essence:
"The scarcity of available homes makes the market poised to easily absorb even a doubling of the inventory."
So, what does this mean for Manhattan, KS sellers?
For those looking to sell their homes, these circumstances present a unique edge. The local market boasts a pool of enthusiastic buyers who are eager, prepared, and capable of making a purchase. Given the limited supply of homes hitting the market, your property becomes a coveted gem for potential buyers.
Collaborating with a local real estate agent to swiftly list your property, ensuring it's in prime condition, and setting a competitive price can draw significant attention. You might even find yourself sifting through multiple offers from interested buyers.
In conclusion
Manhattan, KS is currently experiencing a seller's market, granting sellers a considerable advantage in promoting their properties. The shortage of housing supply thrusts your property into the spotlight for eager buyers seeking a range of choices. To fully comprehend the dynamic trends in our local area as you prepare to step into the real estate market, we invite you to connect with us!