Despite Affordability Challenges, People Are Still Making Moves
Posted by Jolene Roberts on Friday, November 17, 2023 at 9:07 AM
By Jolene Roberts / November 17, 2023
Comment
In the ever-changing landscape of the real estate market, potential homebuyers and sellers face a unique set of challenges. With higher mortgage rates and rising home prices, affordability concerns have become a hot topic. However, contrary to popular belief, the housing market is far from stagnant.
Understanding the Affordability Landscape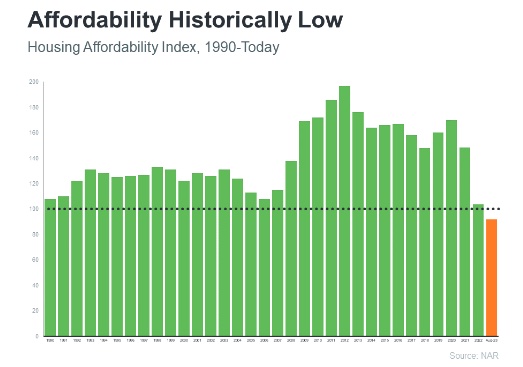 The National Association of Realtors (NAR) provides a valuable tool to gauge the affordability of homes. The graph above helps interpret the relationship between median income, mortgage rates, and home prices. A value of 100 signifies that a family with median income can qualify for a mortgage on a median-priced home. Currently, the orange bar on the graph reflects the challenges posed by higher mortgage rates and home prices.
The Pace of Sales
According to NAR, despite the affordability constraints, nearly 4 million homes are projected to sell this year. Breaking down the numbers, this equates to approximately 10,849 houses selling each day, 452 houses per hour, and about 8 houses per minute. These figures highlight the continued activity in the housing market, emphasizing that people are still making their moves.
The Role of a Trusted Real Estate Agent
In the current market scenario, working with a trusted local real estate agent has become a crucial factor for success. Professinals, like us, offer invaluable insights and assistance to both buyers and sellers. By understanding your specific needs, budget, and preferences, we can provide tailored advice. Our experience enables us to guide clients through the challenges of today's market, offering solutions such as broadening the search to include different housing types or exploring neighborhoods slightly further out.
In Conclusion
The housing market is far from static, even in the face of affordability challenges. People continue to buy and sell homes, and the key to success lies in adapting strategies with the help of experienced local real estate agents. By understanding the market dynamics and seeking professional guidance, individuals can overcome affordability obstacles and achieve their real estate goals.