Growing Your Net Worth with Homeownership in Manhattan, KS
Posted by Jolene Roberts on Friday, October 13, 2023 at 9:08:07 AM
By Jolene Roberts / October 13, 2023
Comment
Imagine your life in the next few years - financial stability, reaching your goals, and building your net worth. If you're living in Manhattan and homeownership is a part of that vision, you're on the right track. Owning a home in the 'Little Apple' offers a unique set of financial benefits, making it an excellent wealth-building tool. Let's explore how homeownership can help you grow your net worth right here in Manhattan and discuss why now is a fantastic time to consider it.
The Rising Value of Homeownership
Even in a city like Manhattan, home values are on the rise. The local real estate market is evolving, providing opportunities for residents to increase their wealth through homeownership.
Household Net Worth Is on the Rise
Recent data shows that residents of Manhattan, have experienced an increase in net worth, and this isn't limited to a select few. People from all income brackets are seeing their wealth grow, and this growth can be partially attributed to the increasing value of their homes.
Homeownership and Financial Success
The difference between homeowners and renters regarding net worth is noteworthy. Lawerence Yun, Chief Economist at the National Associatioin of Realtors (NAR), highlights that homeownership is a catalyst for building wealth for people from all walks of life. The monthly mortgage payment can be viewed as a "forced savings account," allowing Manhattanites to accumulate a net worth that surpasses that of renters.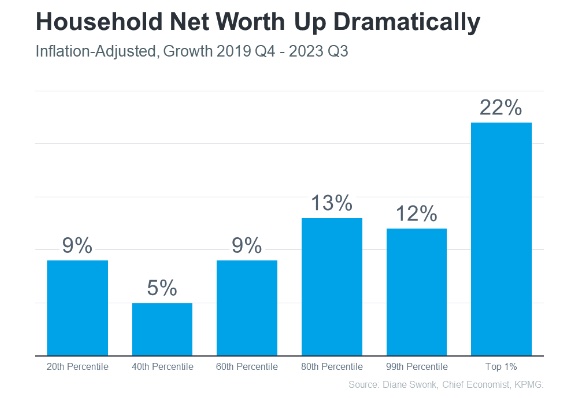 Building Wealth through Home Equity
The primary reason Manhattan residents accumulate wealth is through home equity. Home equity is the value of your home minus your mortgage balance. Data from First American clearly demonstrates that homeownership in Manhattan, significantly contributes to net worth, exceeding other investments such as stocks, gold, and cryptocurrencies.
In Conclusion
For those living in the heart of the Flint Hills, owning a home in Manhattan, is a fantastic path to financial success and wealth building. The increasing value of homes in this community, combined with the opportunity to build equity, makes homeownership a superb choice for growing your net worth. If you're considering homeownership as a means to achieve your financial goals and dreams in Manhattan, now is the perfect time to start this journey.
Ready to invest in homeownership right here in Manhattan and secure your financial future? Reach out to us, and we'll help you get started on this path to wealth and stability. Don't miss out on the tremendous financial benefits that come with owning a home in Manhattan.