Moving Made Easy: Guide for Updating Your Address
Posted by Jolene Roberts on Monday, September 11, 2023 at 4:43 PM
By Jolene Roberts / September 11, 2023
Comment
Moving to a new home is an exciting adventure, but it can also be a hectic and stressful process. One crucial aspect of a successful move is ensuring that everyone knows about your change of address. From utility companies to government organizations, financial institutions to subscription services, there's a lot to consider. Let's walk through the essential steps to create a seamless transition to your new address.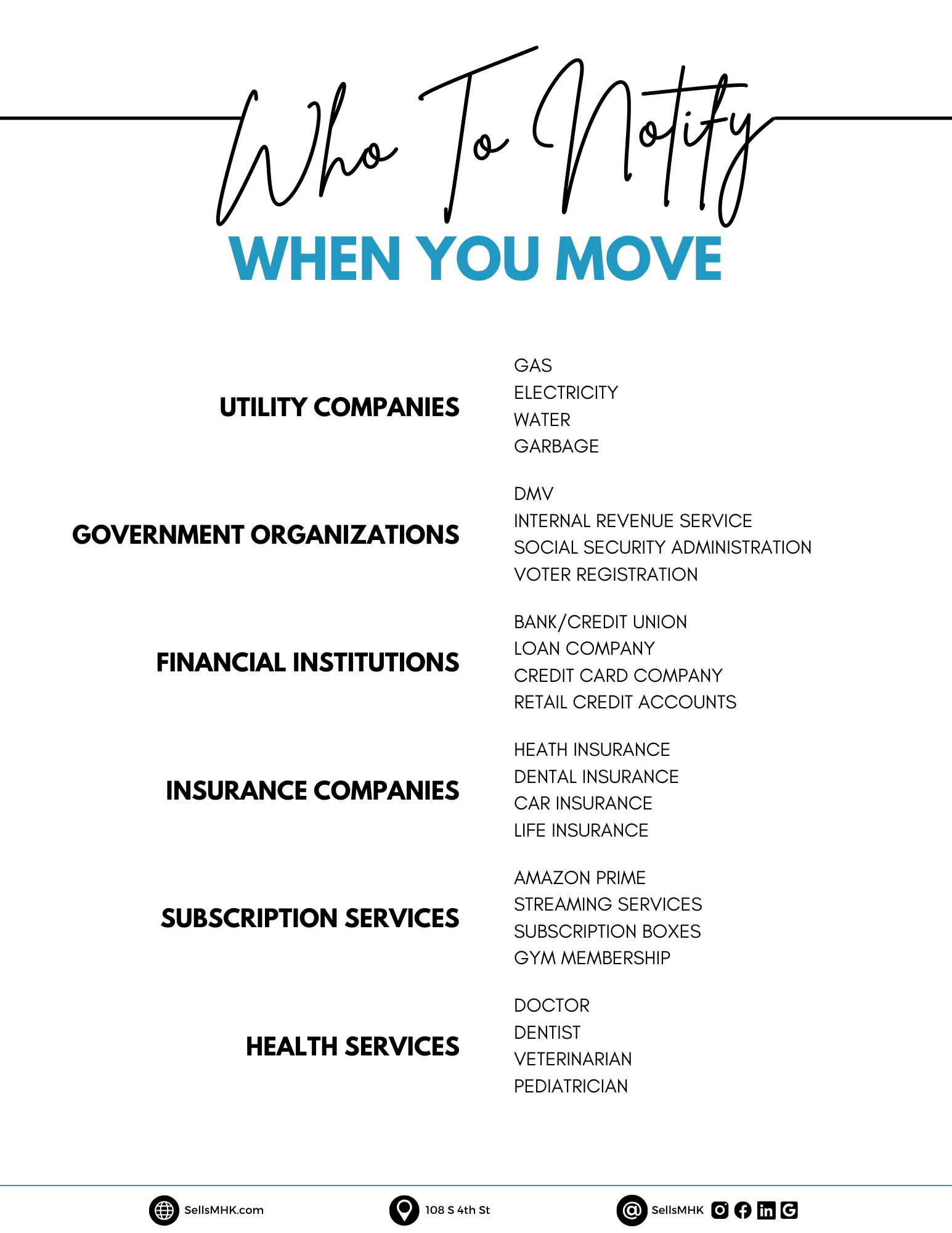 1. Utility Companies
- Gas
- Electricity
- Water
- Garbage
- Sewage
- Internet and cable
- Phone (landline)
- Home security service
- Solar energy company
When moving, it's essential to inform your utility companies promptly to avoid paying for services at your old address and ensure you have essential services at your new home.
2. Government Organizations:
- DMV
- Internal revenue service (IRS)
- Social security administration
- Veteran affairs (if applicable)
- Voter registration
- Other government benefits (like retirement, disability, Medicare, etc.)
Filling out a change of address form with the USPS is crucial, but remember to notify these government agencies individually to ensure your mail reaches your new address accurately.
3. Financial Institutions:
- Bank and credit union
- Loan company
- Credit card company
- Retail credit accounts
- Financial advisors or accountants
Informing your financial institutions of your address change is vital to avoid missing bills and important documents.
4. Insurance Companies:
- Health insurance
- Dental insurance
- Car insurance
- Life insurance
- Homeowner's insurance (or renter's insurance)
Although USPS forwards insurance mail for 12 months, it's wise to contact these institutions directly to update your address in their records.
5. Subscription Services:
- Amazon Prime
- Streaming services
- Subscription boxes
- Gym memberships
- Other local memberships
- Retail websites
- Magazines and catalogs
Don't forget to update your address with the various subscription services you use to avoid disruptions in your services.
6. Health Services:
- Doctor
- Dentist
- Veterinarian (if applicable)
- Pediatrician
Keeping your healthcare providers informed ensures you receive bills and appointment reminders without any issues.
7. Other People to Notify:
- Your current employer
- Your future employer (if applicable)
- Business associates
- Close friends and family
- Neighbors (old and new)
- Map apps (like Google Maps and Apple Maps)
- Smart home apps (for your TV, thermostat, doorbell, etc)
Updating your address with these individuals and organizations will help ensure a smooth transition to your new location.
In Conclusion:
Moving to a new home can be a complex process, but with this comprehensive change of address checklist, you'll be well-prepared to inform all the relevant parties and organizations. Remember that even if you fill out a USPS change of address form, it's essential to notify these entities individually to update their records accurately. By following these steps, you can enjoy a hassle-free move and ensure that your mail, packages, and important documents reach your new address without any hiccups.