Navigating the Manhattan Real Estate Market: Is It Time to List Your Home?
Posted by Jolene Roberts on Monday, September 18, 2023 at 1:02 PM
By Jolene Roberts / September 18, 2023
Comment
Living in the charming city of Manhattan, Kansas, you're no stranger to its unique real estate market dynamics. Whether you're a long-time local or a recent mover, deciding to sell your home is a significant decision.
Manhattan boasts a distinct real estate landscape, influenced by its size, location, and vibrant community. The market here typically sees steady activity throughout the year, with some fluctuations during different seasons. Understanding these local trends is essential for homeowners looking to make a move.
While Manhattan may not experience the same dramatic seasonal shifts as larger cities, recent data shows an intriguing pattern. There has been a noticeable increase in new property listings in late summer, notably in August. This departure from the norm raises questions about evolving seller behavior in our local market.
For those residing in Manhattan, this trend presents a unique opportunity. If you've been contemplating selling your home, the current conditions may be in your favor. With more properties hitting the market, waiting too long could result in facing stiffer competition, including from your neighbors.
However, it's essential to remember that Manhattan is a thriving community with consistent demand for housing. The availability of properties may change, but the demand remains steady. The graph below illustrates Manhattan's ongoing housing market dynamics, underscoring the advantages of considering a sale in today's environment.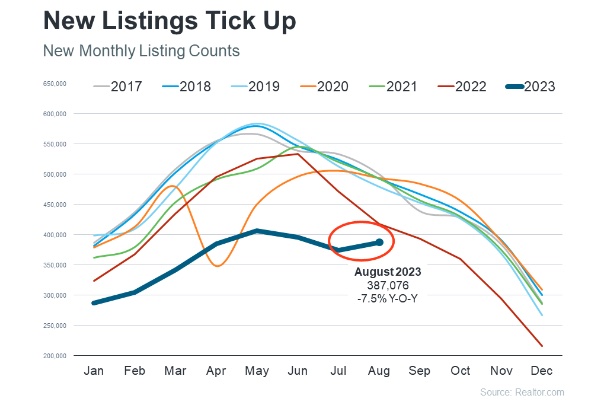 In Conclusion:
For Manhattan residents, deciding to sell your home is a significant choice, and timing plays a crucial role. While our local real estate market doesn't exhibit the same extreme seasonality as larger cities, recent data suggests a shift in late-season listing trends. This shift could mean increased competition down the road.
Therefore, if you've been contemplating listing your property, now might be an ideal time to take action. Despite the rise in new listings, our community's housing supply remains relatively consistent, ensuring continued demand for well-located homes. To explore the benefits of selling your Manhattan home in the current market and make the most of your investment, connect with us today. Your next chapter in the Little Apple might be closer than you think, and we're here to help you make it a reality!