Prepare for More Affordable and Compact Homes
Posted by Jolene Roberts on Friday, September 8, 2023 at 9:08 AM
By Jolene Roberts / September 8, 2023
Comment
Are you dreaming of owning a home? If rising mortgage rates and high home prices have been standing in your way, there's good news on the horizon. Ali Wolf, Chief Economist at Zonda, predicts that over the next 12 to 24 months, Manhattan, will see a significant increase in the availability of smaller, more budget-friendly homes.
In many ways, this shift towards smaller homes has alrleady begun. The COVID-19 pandemic reshaped our understanding of what a home should be. It's not just a place to live anymore; it's also an office, a school, a gym, and more. Those with larger homes were fortunate to have the space they needed for these newfound functions, and they held onto their homes. Meanwhile, those with smaller homes often aimed to upgrade, leading to a trend of smaller homes hitting the Manhattan, KS market during the pandemic, which continues today (as shown in the graph below):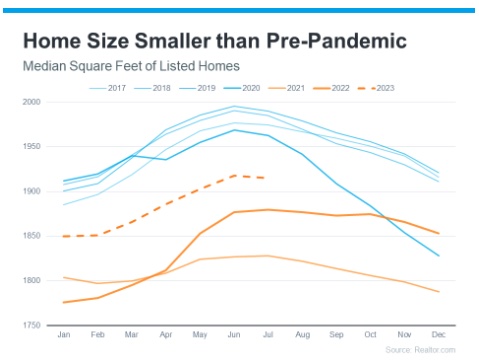 This graph also highlights that the size of homes on the market changes seasonally. Larger homes tend to become available during the summer months when families with school-aged children are looking to move.
With fall approaching, historical trends suggest that Manhattan can anticipate a surge in smaller, more affordable homes throughout the rest of the year. This is excellent news, especially given the increased demand for such homes due to rising interest rates and housing affordability concerns, as noted by Robert Dietz, Chief Economist at the National Association of Home Builders (NAHB):
"As interest rates increased in 2022, and housing affordability worsened, the demand for home size has trended lower."
What Does This Mean for Residents in Manhattan?
The seasonal trend of smaller homes becoming available in the later months of the year, coupled with builders focusing on constructing more compact, budget-friendly homes, is encouraging news for Manhattan residents who may be struggling to find affordable housing. Mikaela Arroyo, Director of the New Home Trends Institute at John Burns Real Estate Consulting, sheds light on the potential increase in the availability of smaller homes:
"While it may not completely resolve Manhattan's affordability challenges, it does create opportunities for individuals seeking an entry-level home in this desirable area."
In Conclusion:
If the idea of owning a smaller, more affordable home in Manhattan appeals to you, rest assured that such options are on the horizon. To stay informed about the latest developments in the locale real estate market, let's connect!