Why Is Housing Inventory So Low?
Posted by Jolene Roberts on Friday, September 15, 2023 at 9:18 AM
By Jolene Roberts / September 15, 2023
Comment
Are you facing the challenge of finding the perfect home in today's real estate market? The scarcity of available homes can be frustrating, but it's essential to understand the reasons behind this situation. We'll explore the factors contributing to the low housing inventory in Manhattan, both in the long term and short term.
Underbuilding in Manhattan, KS: A Long-Standing Issue
One of the primary reasons for the limited housing inventory in Manhattan is the chronic underbuilding of new homes in recent years. Builders have consistently fallen short of meeting the historical average for housing units complete in this area. This persistent underbuilding has resulted in a significant inventory deficit, and although construction activity is improving, solving this long-term problem will take time.
Mortgage Rate Lock-In Effect: Local Market Dynamics
In the Manhattan real estate market, there's another factor exacerbating the inventory challenge - the mortgage rate lock-in effect. Some local homeowners may be reluctant to see because they fear taking on higher mortgage rates compared to their current ones. This situation is highlighted in the accompanying chart, illustrating the number of Manhattan residents facing this dilemma. However, it's essential to remember that your housing needs are just as crucial as the financial aspects of your move.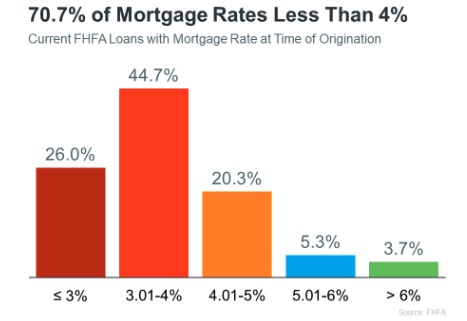 Media Misinformation and Fear in Manhattan, KS
Fear and uncertainty have been amplified by sensational media headlines, affecting the housing inventory. You may have come across alarming predictions of a housing crash or substantial price declines. However, it's crucial to note that these dire forecasts have not come to pass, and the local real estate market remains relatively stable. Seek trustworthy, up-to-date information and consult a knowledgeable real estate agent in the area to get a clear understanding of the situation.
How Does Low Inventory Affect Residents?
Your experience with the low housing inventory in Manhattan, depends on whether you're buying, selling, or both.
For Buyers: With a limited number of homes for sale, it's essential to explore all your options diligently. Consider different neighborhoods and housing types, and work closely with a local real estate professional who knows the Manhattan market inside and out. We can help you expand your search if necessary.
For Sellers: Low housing inventory in Manhattan can work to your advantage. Your home will stand out in a competitive market. A local real estate agent can explain the benefits of selling under these conditions and keep you informed about the latest homes available for sale in your area.
Navigating Manhattan's Housing Market
The low housing inventory is a challenge that combines both long-term and short-term factors. If you're considering a move in this area, connecting with a local real estate expert is a wise decision. They can provide insights into how the unique market conditions in Manhattan affect you and keep you informed about the current state of housing inventory in the region. Don't let market conditions deter you from your homeownership goals; take proactive steps to navigate the real estate landscape successfully. We're here to help you make informed decisions and find your ideal home in our local area!