Why Today's Housing Market in Manhattan Is Poised for Stability
Posted by Jolene Roberts on Wednesday, September 27, 2023 at 3:34 PM
By Jolene Roberts / September 27, 2023
Comment
While the memories of the 2008 housing crash might seem distant, the concerns about a potential repeat still linger for many. However, if you're a resident of Manhattan, Kansas, there's some good news: the housing market in your area is significantly different from the conditions that led to the nationwide crash in 2008. One of the key factors setting it apart is the current shortage of homes for sale, indicating an undersupply rather than an oversupply as seen in the past. Manhattan's housing inventory suggests a stable market, offering peace of mind to local homeowners and prospective buyers.
Insufficient Homes for Sale in Manhattan
To trigger a housing market crash, there must be an excessive supply of homes available for sale. Fortunately, the data doesn't support this scenario in Manhattan. Housing supply here primarily comes from three sources: homeowners deciding to sell their properties, newly constructed homes, and distressed properties like foreclosures and short sales.
Homeowners Deciding to Sell Their Houses
Though housing supply has increased compared to the previous year, it remains relatively low. The current months' supply falls below the norm for the area, as indicated by the graph below. When comparing the latest data to 2008, there's only about a third of the available inventory today. This means there simply aren't enough homes on the market to cause a significant drop in home values in your local area. To recreate the conditions of 2008, there would need to be a surge in home sellers with few buyers - a situation that isn't occurring in Manhattan at present.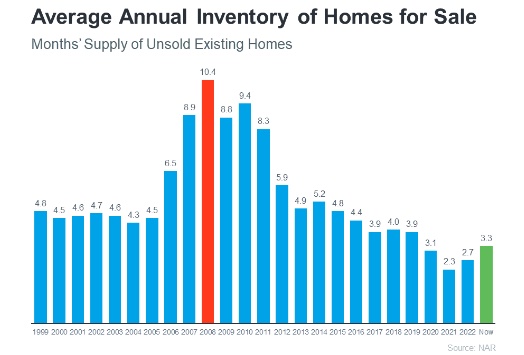 Newly Built Homes in Manhattan
Another factor contributing to the current inventory shortage in Manhattan is the inadequate construction of new homes over the past 14 years. Builders have not kept up with demand, resulting in a significant supply deficit. Although construction has been increasing and is approaching the long-term average, it won't lead to an oversupply due to the substantial gap that needs to be bridged. Additionally, builders are more cautious about overbuilding, ensuring a more stable local market.
Distressed Properties (Foreclosures and Short Sales)
During the housing crisis, a flood of foreclosures occurred due to lenient lending standards. However, today in Manhattan, lending standards are much stricter, resulting in fewer foreclosures. The graph below, using data from the Federal Reserve, illustrates this change. Furthermore, the combinatioin of a foreclosure moratorium and forbearance programs in 2020 and 2021 prevented a repeat of the foreclosure wave witnessed in 2008, protecting homeowners in your area.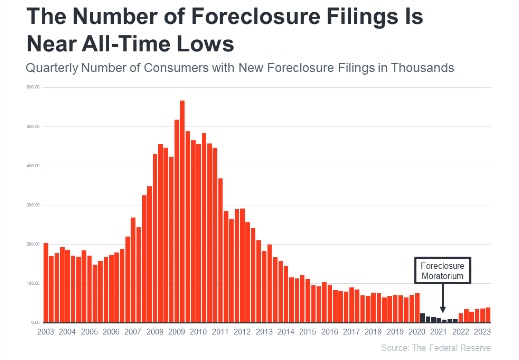 The forbearance program allowed homeowners in Manhattan to explore options such as loan deferrals and modifications, which were not available before. The data indicates that a significant portion of homeowners coming out of forbearance has either paid in full or worked out a repayment plan to avoid foreclosure.
What This Means For You in Manhattan
Housing inventory levels are far from the point where significant price drops and a housing market crash would be likely. According to local experts, this situation is not expected to change anytime soon, especially given the strong demand from buyers in your area. This ongoing shortage of inventory continues to exert upward pressure on prices, indicating that a price crash is ulikely in the near future.
In Conclusion
The current state of the housing market in Manhattan does not indicate the conditions necessary for a repeat of the 2008 housing crisis. The scarcity of available homes for sale, coupled with strong local buyer demand, paints a picture of a stable housing market with no crash on the horizon. Whether you're a homeowner looking to sell or a prospective buyer, rest assured that your real estate investment in Manhattan remains a sound choice in these times of limited housing supply.